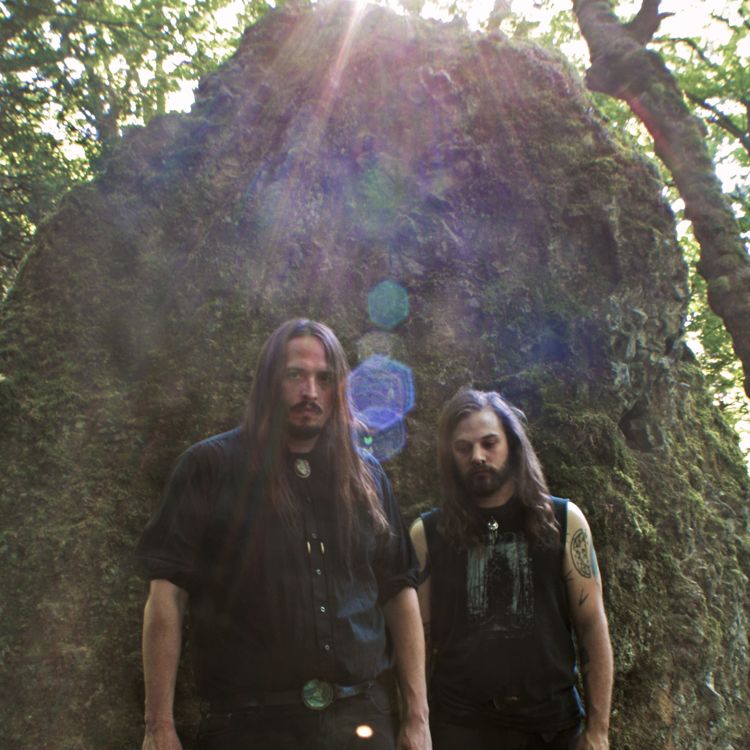 Reuscher and Megaton Leviathan
The Occult lore.... (Reuscher and Beug 2011/12, photo credit: Nathan Weaver)
Megaton Leviathan Biography Spring  2022
Creating a sound that would stump critics and come to be described as Doomgaze. Reuscher, In a gritty Gateway basement of Portland, OR, committed the Shoegaze of My Bloody Valentine, Spacemen 3, Loop, and Slowdive, to the heavy prodigiousness of Sunn o))), Godflesh/Jesu, Swans, and Corrupted in a chymical wedding. Further mutating the genome of the Mega-Beast by coalescing the industrial experimentations of Chrome and Throbbing Gristle into the Kosmische minimalism of Tangerine Dream, Faust, and Cluster. Indelible in the DNA of the narcotic, primal, cinematic vibe of The Megaton Leviathan. 
While Reuschers recordings with  Matt Brim spun Megaton Leviathan into existence, in the spring of 2009, Chris Beug joined. Mobilizing the trio by mixing curating and hand screen printing the acclaimed  MMIX Demo alongside Reuscher. Beug became a full-time collaborator, contributing a string ensemble for the debut release,  "Water Wealth Hell On Earth." Making Aquarius Records record of the month. Reuscher and Beug experimented with occult-themed performance art /rituals and live visuals while relentlessly touring regionally and across the USA. Often performing in small venues, living rooms, and basements with various personnel and configurations. Playing larger shows alongside Wolves In The Throne Room on PNW dates and the Celestial Lineage tour as direct support, performing as a two-piece with backing tracks recorded by Randall Dunn at Avast.  MMIX, Repeating Patterns Of Love and Water Wealth Hell on Earth would establish the project as a respected voice and visionaries in the burgeoning Doompop-Doomgaze genre they helped define. 
Around the summer of 2012, Megaton Leviathan signed with Chicago-based Industrial Doom Label Seventh Rule returning to the studio with Randall Dunn In tow with Sally Ford drummer Ford Tennis to lay down the foundation for Past 21.  An album that would come to feature collaborations from Sara Pinnell (Young Hunter), Kris Force (Amber Asylum) and Henry Barns (Amps For Christ/ MITB/Bastard Noise).  Beug and Reuscher continued to record at WITTR's fledgling Owl Lodge Studio, planning to have Randall Dunn mix. The Duo, plagued by technical issues and creative differences, ultimately chose to part ways. Struggling with seeing the vision through, Reuscher enlisted openly Trans producer Mort Subite under the recommendation of Billy Anderson. Mort Subite And Reuscher clicked immediately in what would result in a seven-year relationship as collaborators and close friends. 
Mort Subite diligently resuscitated Past 21 in 2014. Reuscher stated, "It won't be the album I thought it would be, but it's going to be the album it's meant to be. That's psychedelic, isn't it?"  Setting forth on several regional tours with only Reuscher taking the stage and Mort Subite live mixing and a US Tour with drummer Marcus Covello in support. Past 21 was well-received among critics and is Megaton Leviathans' heaviest album to date. Pushing past the "confines" of Funeral Doom and Doomgaze while setting a new standard with the mixing of lo-fi elements and modern production, culminating in a downtempo post-punk-tinged cover of Judas Priests' "Here Come the Tears." 
In the following years, Megaton Leviathan would only play one show while Reuscher quietly began to write new material. Mort Subite and Reuscher would start redefining the vision of what the project would become. With Reuscher leaning more heavily on synths in his songwriting Mort Subite began to feel more at home.  During this time, drummer Jon Ried (Lord Dying/ Matt Pike vs. The Automaton), concert violinist Andrea Morgan (Exulansis), and  Trejan Jamal, a Dystopia Roadie in a past life, joined. Along with a revolving cast of players to flesh out the band as a six-piece. Reuscher, Mort Subite, and Andrea Morgan co-produced the Post-Industrial Doomgaze masterpiece Mage. Featuring a cover of Cluster & Brian Enos' song The Belldog and contributions from Acid Punk visionary Helios Creed and Secret Chiefs 3 alumni Adam Stacy. 
Megaton Leviathan began to perform locally and regionally, connecting with a broader audience. Signing a contract with Outrun and specialty Metal label Blood Music for the fall 2018 release of Mage. The Album made many top 10 end-of-year lists, becoming a favorite among newly converted fans. Reuscher began production with local Portland filmmakers on a yet-to-be-released short to accompany the 15-minute song "Within The Threshold," with Helios Creed as the protagonist in the story. With the sudden disappearance of Mort Subite and countless circumstances heading into the pandemic, Megaton Leviathan quickly Saw the end of another era.
Guns And LSD, The Complete Demos2007-2013
In the throes of the pandemic, Reuscher began slowly working on compiling the complete demos from 2007-to 2013. Remixing select tracks or, in some cases, leaving them in a raw (original) state and having them mastered by Warren Defevar (His Name Is Alive) at Third Man. 
The compilation spans three albums worth of material created in the project's early years, Inspired by the dusty San Joaquin Valley California landscape of Reuscher's troubled past.  MMIX, Repeating Patterns of Love and Water Wealth Hell on Earth pushed the limits of listeners and was lauded by tastemakers, blazing the trail of what would become known as Doomgaze, Doompop, and Industrial Doom.